.
upcoming and current exhibitions
current
​Until September, I will be showing a print in the
International Print Center New York New Print Program.
IPCNY 's New Prints Program was created to bring artists' prints of the highest
quality from the widest possible range of sources to the attention of the viewing public.
By establishing this unique and ongoing forum for exhibiting prints by artists at all stages
of their careers, IPCNY continues its work to enlarge audiences for the visual arts.
---
---
1st TKO International Miniprint Exhibition 2016 (Tokyo →Kyoto→ Osaka)
An awards ceremony will be held at B-gallery from 18:00~20:00 on July 30 (Sat.)
Tokyo Exhibition: B-gallery
2-31-6 Nishi Ikebukuro Toshima-ku Tokyo,171-0021 Japan
http://www.Bgallery.info email@Bgallery.info

Kyoto Exhibition : Art Zone Kaguraoka
2016 8.26 (Fri.)~9.4 (Sun.) 11:00~19:00 Closed Wed.and Thu.
4 Yoshida Kaguraokacho, Sakyo-ku, Kyoto 606-8311 Japan
http://www.artzone-kaguraoka.com artzone@iris.eonet.ne.jp

Osaka Exhibition : GALLERY IROHANI
2016 9.9 (Fri.)~9.21 (Wed.) 11:00~18:00 Closed Thu.
1-2-29 Kaichohigashi, Sakai-ku, Sakai City Osaka 590-0953 Japan
http://www.tcn.zaq.ne.jp/art/irohani/ irohani@cup.ocn.ne.jp
2016 7.26 (Tue.)~8.14 (Sun.) 14:00~18:00 closed Mon.
---


past
Loft 112
535 8 Ave S.E.Calgary Alberta
May 10 thru May 28, 2016
Closing RECEPTION: Thursday May 19, 2016, 7 – 9 pm
A recent body of work will be on the walls of Loft 112 for the month of May. Through the beginnings of a collaboration with Ceramic artist Laura Sharp around the initial idea of exploring the idea of "vessel" and a workshop at Crown Point Press a series of prints have emerged.
A series of copper plates were created and interchangeably printed layering on top of each other to create a somewhat dense collection of information.
The prints, ambiguously describes the open net work of a Japanese fishing buoy. Printed on gampi paper and embroidered with tiny stitching, they
embody a sense of floating while being simultaneously slightly
claustrophobic.
The prints are paired with porcelain sculptural elements by Laura Sharp.
---
​New Craft Coalition
Festival Hall, Inglewood Calgary, Alberta
May 6th 4 pm - 9pm & May 7 10 am - 6pm
Bringing a carefully curated collection of art, craft & design to the people.
---
McMaster Museum of Art
Hamilton, Ontario
January 14 thru April 02, 2016
EXHIBITION RECEPTION: February 26, 2016, 3 – 5 pm
---
The Small Engine Gallery
Albuquerque, New Mexico
The HAND Magazine group exhibition
February 1st-28th
Opening Reception February 12th 6-10pm
www.thehandmagazine.wordpress.com
---
---
---
GALLERY 215
Maitland, Nova Scotia
July - mid October 2014
---
---
Powered by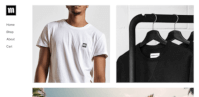 Create your own unique website with customizable templates.